Inclusion Awareness Sunday
Every Sunday, and especially on a selected chosen Sunday, those with disabilities are welcomed and sought to enable their full participation in the life of our church.  By observing Inclusion Awareness Sunday, we pray to further educate parishioners about the needs of people and children with disabilities in our midst, as well as to recognize the tremendous value they add to our community.
On this day, special observances are incorporated to celebrate Inclusion Awareness Sunday, such as:
Special Liturgy and Speaker Presentation
White Ribbons pinned on all parishioners representing holiness and reverence
Inclusion Awareness Sunday Prayer Card distributed
"The Body of Christ" Booklet by Fr. John Chryssavgis distributed
Catechism School and Youth Inclusion Awareness Activities
Extra pews reserved and extra accessible parking spaces designated
Special sentiment gifts may be passed out to parishioners with disabilities (i.e., icon, small bible, etc.)
This program was first developed by the Pathways Awareness Foundation in Chicago, Illinois.  Every year, the Greek Orthodox Metropolis of Chicago designates a day as Inclusion Awareness Sunday.  We hope to encourage all Greek Orthodox parishes across the United States to consider dedicating a Sunday each year to celebrate the inclusion and acceptance of people and children with disabilities to our houses of worship.  It is best summarized by a passage by Fr. John Chryssavgis in "The Body of Christ" pamphlet – "When we voluntarily, compassionately and joyfully stand beside and respond to the needs of another member of the living Body of Christ, then we are in fact responding to Christ Himself…"
As this ministry has been celebrated by various parishes, several materials, templates and communications have already been prepared.  As such, for easy use to bring the ministry to your parish, we can easily provide these templates for you to tailor and update accordingly.  Please contact Maria Bournias at mbournias@aol.com for more information!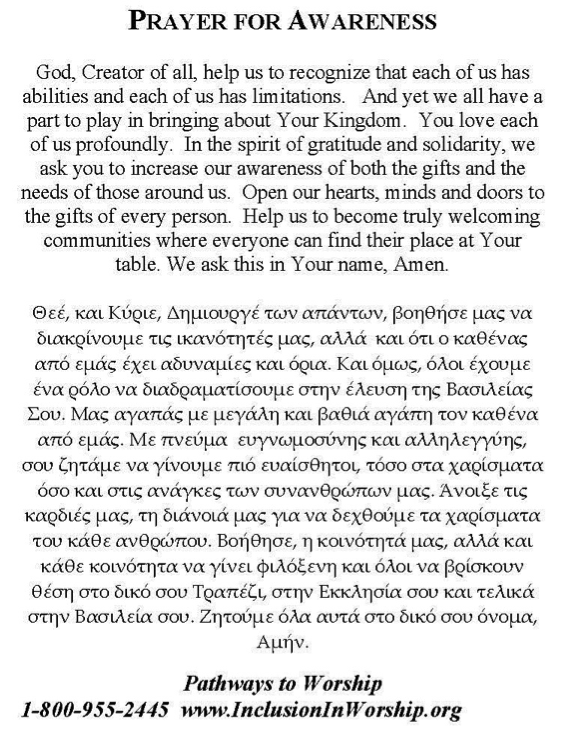 Read about our Inclusion Sunday celebrations!
Inaugural Inclusion Awareness Sunday – November 21, 2010: 

ASCENSION – 2010 Inclusion Sunday

2nd Annual Inclusion Awareness Sunday – November 13, 2011:

ASCENSION – 2011 Inclusion Sunday

3rd Annual Inclusion Awareness Sunday – October 21, 2012:

ASCENSION – 2012 Inclusion Sunday

Most recently, we had our Annual Inclusion Awareness Sunday on September 25, 2016